Choose premier care, comfort, and support at Cogir of Vancouver. Beautifully designed inside and out, our pet-friendly homes are adorned with all the luxuries and conveniences needed to lead a comfortable life. Whether you're looking for independent living, assisted living or memory care in Vancouver, WA, or more extensive care programs, we're confident you'll find the right one in our community.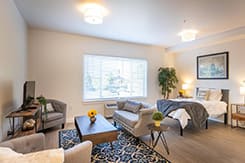 Accommodations and Services
Choose from studio, one- or two-bedroom apartments—or cottages with attached garage. Families of Memory Care patients can choose private or semi-private apartments. All utilities included except phone. Cable, Wifi, concierge service, housekeeping and laundry are available. And we're pet friendly!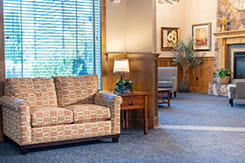 Layout and Amenities
Stroll through our inner courtyard. Test your green thumb in our resident garden. Enjoy the library, fitness room or salon. Gather with friends old or new in the fireplace lounge. You'll find complete WiFi coverage in all common areas. Lush and lovely garden for Memory Care residents.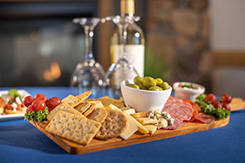 Food Services
Table service is offered in all day in our dining room. Or dine at the Bistro café. Our excellent chef offers a choice of farm-fresh, locally-sourced ingredients from a, nutritionist-approved menu. Community kitchen and private dining room also available.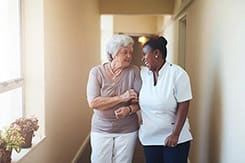 Care and Assistance
Our care services are tailored to changing needs and include transportation to medical appointments, mobility, dining, hygiene and dressing assistance. We also provide medication and incontinence management, as well as diabetes assistance.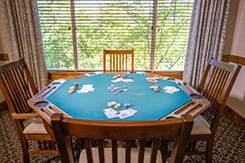 Activities and Leisure
Choose from a variety of scheduled daily onsite activities like puzzles and board games, activity room, billiards, theatre, music and film evenings, learning and teaching events. Garden boxes are also available. Bus and van transportation, as well as excursions to special community events.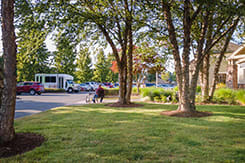 Safe Environment
Resident safety is a top priority. From 24-hour security to an on-site nurse to surveillance and emergency response throughout the property. Emergency pendants are available for added security. To ensure cleanliness, we exceed all state sanitation guidelines.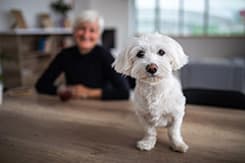 Pet Friendly
A pet's unconditional love brings joy and companionship to the lives of many seniors. Our welcoming pet policy underscores the importance of the strong bond between pets and their owners.
Vancouver, WA Senior Living
Seniors living here wake up to gorgeous green views and outdoor areas that give a Northwest lodge ambiance. The floral ornaments and grassy spaces are the perfect backdrop for a quiet morning walk, while the indoor courtyard and fireplace lounge make for cozy relaxation spots. Residents can enjoy a community kitchen, happy hours, vibrant dance floor, live entertainment, a library packed with their favorite books, and complete Wi-Fi coverage in the common areas to help them stay connected. Delicious chef-prepared meals are cooked every day and served in the softly lit dining room, Bistro café, or private dining area.
We provide independent and assisted living, as well as respite and memory care in Vancouver, WA. Our dedicated staff is there to aid with everything from mobility to dressing, eating, medication, and hygiene. The homes are spacious, elegantly designed, and filled with natural light. Daily chores are taken over by our team, including services like housekeeping and laundry.
As for our Vancouver memory care programs, they were designed exclusively for seniors who need help coping with Alzheimer's or dementia. Along with the ongoing availability of daily caregivers, nurses, and physicians ready to assist, we also focus on strengthening family bonds and social connections to ensure that our residents can lead a fulfilling life. Give us a call today and let's discuss the best care program available for you or your loved one.
Testimonials
Cogir of Vancouver was wonderful; I like them. We had chosen that one for my father and my mom to live in, a 2-bedroom. I love the management there, they're just fabulous people. I like the care of the management; I think that's a big deal. Also, it feels like a wonderful place for people who want to not just sit in their rooms, it feels almost like a hotel to me. They have a nice restaurant, they have events.

- JC - Caring.com
I would highly recommend the community to others for their loved ones. It is a pretty, clean, and updated community. The staff are wonderful. I feel great with the security. It is kept up beautifully. The food is some of the best I've ever had.

- Jerry - A Place for Mom
We visited Cogir of Vancouver as part of a "grand tour" of places for a relative in Portland Oregon and found this place to have exceptionally lovely apartments and cottages, some with patios and balconies. Everyone, staff, and community members, were so friendly and looked happy and engaged and clearly looking forward to their meals, activities, outings, and get-togethers. We would heartily recommend this as an assisted living residence.

- Isles - Caring.com
My wife and I have experienced both independent and assisted living here, all without changing apartments. In eight years, we have seen four different owners. Cogir is the best, by far. They have changed the atmosphere of the place for better. Highly Recommended.

- Campbell - Senior Advisor
We chose Cogir of Vancouver because the price was good and they had availability at the time we needed it. The apartment sizes are great for what he needs. He really enjoys the food that they serve. The cleanliness of the facility is great and the people are wonderful, they are always willing to help out. I would recommend to others looking .

- Loren - Senior Advisor
My parents moved into Cogir of Vancouver. Their room is bright and cheery. They have really roomy walkways and doorways. Their deck overlooks a garden area with sitting spaces. The building is like a square and in the middle is a garden, a fountain, walking paths, and sitting areas. They've got very friendly staff and really good food.

- Mary - Caring.com